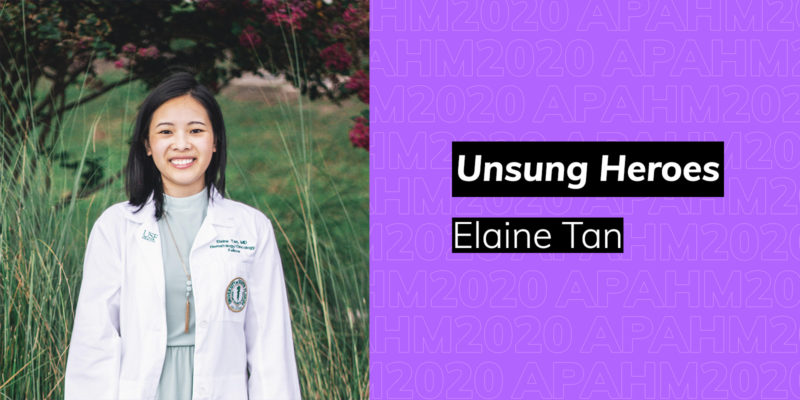 To celebrate Asian Pacific American Heritage Month, Sparks Magazine is featuring Asian Pacific Islander American (APIA) unsung heroes during COVID-19.
 
We're excited to feature Elaine Tan, who is a hematology/oncology fellow based in Tampa, Florida working at the Moffitt Cancer Center.
What is your profession?
I am a physician doing a fellowship in hematology/oncology. In other words, I completed my residency and am now doing extra training where I'm learning to care of patients with blood disorders and cancer.

What is it like at your hospital right now?
Operations have for the most part been business as usual, from a patient care standpoint. Everyone is screened at entrances for symptoms and is required to wear a mask. Visitors are not allowed, except in special circumstances. More provider visits are being performed through Zoom. So it is certainly less crowded than before. Thankfully, we have not had a large influx of COVID patients. We have had a consistent supply of PPE without concerns for a shortage at this time.

Despite not working with COVID patients directly, do you feel safe?
At work, I feel safe. Everyone is wearing masks, and hand sanitizer is readily available.

How do you manage any stress and anxieties?
Staying connected with my family and friends has helped. My Christian faith and prayer have also helped me feel more at peace with the situation. 

Why are you doing what you are doing?
I chose this profession because of the opportunity to connect with patients and their families as they navigate the marathon of a cancer diagnosis. Our knowledge of how to manage cancer is rapidly expanding, and it feels great to be able to offer new therapies to patients.

Do you have any advice to the community?
This is a new virus that has impacted everyone's lives, causing us to feel anxious, upset, and afraid.  However, how we choose to respond to the situation is what others will remember about us. Be considerate of others and wear a mask, wash your hands, and avoid environments with large crowds where social distancing is not realistic.