Just around noon on March 25, color exploded on the University of Florida's Flavet Field. Hundreds of people in white t-shirts allowed colored powder to fly from their hands. Clothes, skin and hair are dyed vibrant shades of blue, pink, yellow and orange as members of the crowd gleefully yelled, "Happy Holi!"
Holi is a traditional Indian holiday known as the "Festival of Colors," which celebrates the coming of spring. Every year, the University of Florida's Indian Student Association (ISA) hosts a Holi festival for students and the greater Gainesville community.
"People celebrate Holi as a sense of renewal and a celebration of community," ISA President Vibhor Nayar said. "So we're trying to embark on those same principles with the community. That way, they all have one event where they feel like they're united as a group and can celebrate their diversity at the same time."
Planning for the event begins in September of the fall semester to accommodate with the sheer magnitude and logistics of the occasion.
"For me, last year was my favorite year. I was [one of] the director[s] of the event, and I was able to make everything possible," Nayar said. "To me, it's really special to have 2,500 people come and having them be able to throw the powder at that one moment."
Traditionally, Holi is known as a time of renewal, forgiveness and the triumph of good over evil. People gather to throw colored powder, water and paint on each other. According to historical Indian beliefs, these bright colors used in the festivities carry symbolic values: according to an article published by Sensational Color consulting agency, red represents matrimony, blue represents Lord Krishna from Hinduism, green represents new beginnings and yellow represents the spice tumeric associated with well-being. Over time, Holi has grown and is now celebrated worldwide, welcoming people of all cultures.
Roksolana Havryliv, a third-year psychology and management major at UF, said, "I went last year, and it's a really fun experience. Just being part of something that's really big was really fun."
"Fun" seems to be the buzzword of the day – attendees of the event are all smiles and laughs, as they wait for the exchange of colors to begin.
Ritwika Pal, a Gainesville resident who moved to the U.S. from India, said, "The fun part is putting the colors on others. I don't think the symbolism of the colors are important."
Many attendees are celebrating Holi for the first time. Third-year health science student Emily Prins and sustainable construction graduate student Arnon Khantawang are some of these first-timers.
"We've been wanting to come for the past few years," Prins said. "It's never worked out until now. We were at the VISA [Volunteers for International Students Association] show on Friday, and we knew it was today from that."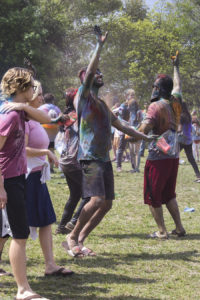 Other first-timers said that they came to Holi after hearing about it by word of mouth or through social media. They all expressed excitement as they prepared for "takeoff" or the moment they throw the powder.
"I'm most excited about being part of a bigger cultural event," Khantawang said.
Many participants of ISA's Holi 2018 agreed that the Festival of Colors was successful. They also talked of hopes of returning for another Holi celebration.
"I definitely want to come again next year," Havryliv said.
Photos by Claudia Forster Torres.