For Shreyas Amol Jethwani, the act of waiting for "a candidate who would go far enough, do enough or propose enough" did not suffice. This cycle of waiting prompted Jethwani, a 21-year-old, openly gay Indian-American, to run as a representative for District 21 in the Florida House of Representatives. If elected, Jethwani would represent the areas encompassing Trenton, Old Town, Newberry and parts of Gainesville. He is running against his Democratic counterpart, Jason Haeseler, in the Democratic primary election. If Jethwani wins the primary, he faces a conservative opponent. Chuck Clemons, an incumbent who has served since the last congressional election in 2016, is a strong believer in second amendment rights and embraces a pro-life approach. In order for his name to be placed on the ballot, Jethwani must obtain petitions from percent% of the total registered voters in the district or in other words, 1,173 petitions.
"As far as me running, I've been involved in Democratic politics ever since I came to UF," he explains. In terms of his participation in Democratic politics, Jethwani has engaged in sit-ins during Senate meetings to protest the Richard Spencer event in October and has advocated for the Career Resource Center at the university.
As previously mentioned, Jethwani has a minority background. He explains, "As a queer brown person growing up in Ocala, you quickly understand where you stand in the community. Growing up with my minority identities, I think I have a better view of understanding the issues that face a diverse population."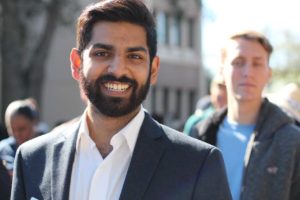 Although District 21 is predominantly white,  4.8 percent of its population consists of Asian backgrounds. On a larger scheme, if elected, Amol Jethwani would not only be the first Asian American representative of District 21, he would be the first Asian American in the Florida Legislature. According to Anthony Reyes, a program associate of the Asian Pacific American Institute for Congressional Studies, "There is no evidence suggesting that the Florida Legislature has had any Asian American legislators. There are currently none serving now, and there is no record of any since the year 1990." When questioned on problems the Asian community faces on a Florida level, Jethwani recognizes the need for education reform to make access to higher education more affordable for Asian Americans. In recognition of this, he states, "I think that one of the biggest things is the cost of education and retaining a workforce that stays in Florida which is how our community plays a role in the state's economy." As a means of alleviating the costs of education for not just Asian Pacific Islander Americans, but for students of all backgrounds, Jethwani suggests a program to fund four years of education in exchange of staying in Florida after graduation to better Florida's workforce and economy.
"As a queer brown person growing up in Ocala, you quickly understand where you stand in the community. Growing up with my minority identities, I think I have a better view of understanding the issues that face a diverse population."
On a national level, Jethwani believes tokenism does affect the Asian American community in more serious manner than some realize. Joe Feagin, author of "Myth of the Model Minority: Asian Americans Facing Racism", reveals the amplified degrading effects on mental health caused by the pressure to conform to "molds" of minority individuals. He states, "We accent … the institutionally racist situations in which Asian Americans find themselves – those highly pressured situations that create much stress and deeply felt pain." Situations in which Asian Americans feel forced to adhere to a model minority status and thereby kowtow to white culture. This tokenism reawakens the need for discussion of mental health for Asian Americans especially in today's America. Nine years ago, Seung-Hui Cho killed 32 people at Virginia Tech University. Although it cannot solely be attributed to his mental health, there is speculation that racism he faced as an Asian immigrant may have accelerated degeneration of his mental health. In the wake of the Marjory Stoneman Douglas shooting, the discussion of mental health has once again been raised countering the gun control arguments. Jethwani believes the shift to blame mental health as the biggest factor in the casualties resulted in a dismissal of gun control.  In response, Jethwani claims, "This is a burden on society that isn't being addressed. We're ranked 49th in the nation for per capita mental health spending." Regarding action to raise mental health awareness, Jethwani believes "there are too many people affected by it" and explained that he is willing to advocate for mental health.
Amid the public outcry that has prompted Florida's House of Representatives and the Florida State Senate to act quickly, Chuck Clemons has recently voted "no" on a bill that would induce a discussion of banning guns in the House. Although the Florida State Senate has rejected the notion of arming teachers, Jethwani had criticized this proposal. Jethwani claims, "I think that's so ludicrous … It is not the onus of a teacher to defend a classroom. I know any amazing teacher would, but it is not their burden." Furthermore, Jethwani reckons that the education budget is already minimal in its ability to fund the classroom. In his opinion, deducting from a budget that he claims "forces teachers to dip into their own salaries to pay for materials" would not eradicate the issues involving education and gun control.
Drawing from the recent outpour of students protesting in the #NeverAgain movement, he identified the importance of empowering youth to engage in today's  political/social afflictions. Jethwani suggested, "The key to jumpstarting our democracy and to making it more robust again is to increase the electorate." According to Jethwani, by increasing registered voters, people would become more educated on subjects that truly matter on an individual basis. For example, Jethwani encourages people to join clubs such as College Democrats or Indivisible to become more aware of the political process. The result of this hypothetical engagement in politics, in Jethwani's words, should reach elected representatives who truly serve as public servants to and for the people. Jethwani's opinions on public engagement reminds him of the grassroots campaign he has engaged in.
Jethwani recognizes his position as a liberal Democrat, but he asserts it will not stop him from attending to the problems of District 21. "I still believe that on a state level we need to move forward in the right direction," he says. To him, these right directions include addressing access to rural healthcare, internet access to its rural parts and the restoration of fisheries on the coast. In recognition of political polarization and his stance on this political spectrum, Jethwani plans to "reach across the aisle" in order to improve the community without partisanship.
Jasmine Chi originally wrote this article in February 2018. She has since decided to volunteer with the campaign.